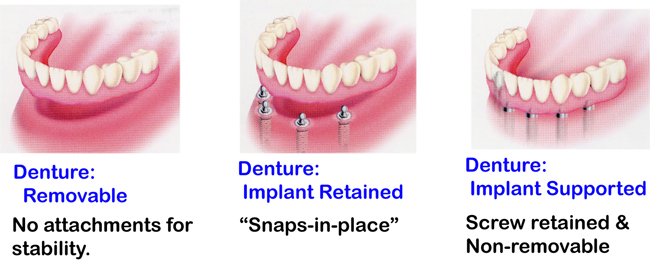 Dentures are used to replace a full arch or full mouth of missing teeth and can be removable or permanently secured using dental implants. A partial denture is similar to a dental bridge and can replace several consecutive missing teeth. In most cases, a partial denture is permanently secured to stabilize dental health and restore natural function.
WHAT TO EXPECT
The denture placement process will vary from patient to patient, depending on the type of denture you are receiving, the need for any tooth extractions or pre-treatment dental work and whether dental implants are being placed.
Dr. Sherman will meet with you to discuss your needs and thoroughly evaluate the condition of your teeth, gums and bone structure. We have a wide array of diagnostic technology in office for evaluating the structure of your mouth and the condition of your dental health.
The first step is to take dental impressions if you have any existing natural teeth. These are used to create an "immediate denture" that will resemble your natural tooth shape and smile. If teeth need to be extracted or any periodontal therapy or gum surgery is needed prior to placing a denture, we will work with you to coordinate each step in the process. New dental impressions will be taken after any treatments or extractions to be used in the creation of a final denture that will fit comfortably on the gums and support a comfortable bite.
If dental implants are being placed to secure the denture, the next phase will be the surgical implantation of the posts which will eventually secure your permanent denture. A period of several months will be needed to allow tissues to heal properly and the posts to integrate with the jaw bone. During this time a temporary denture will be placed so that you can get used to your new smile and the gums can adjust to the new appliance. As with a traditional denture, a new set of impressions will be taken after the healing period for fabricating the final restoration. This will accommodate any changes in the soft tissues and gums that may have occurred during the healing time period and provide a more stable fit.
We will provide personalized instructions for daily care of your new denture or implant supported denture, oral hygiene tips and recommend when to return for a checkup. Routine dental care is important for patients with dentures, providing the opportunity for Dr. Sherman to monitor the health of your gums, the stability of your denture and to look for signs of wear or damage.